July In August: A Story About the Opioid Epidemic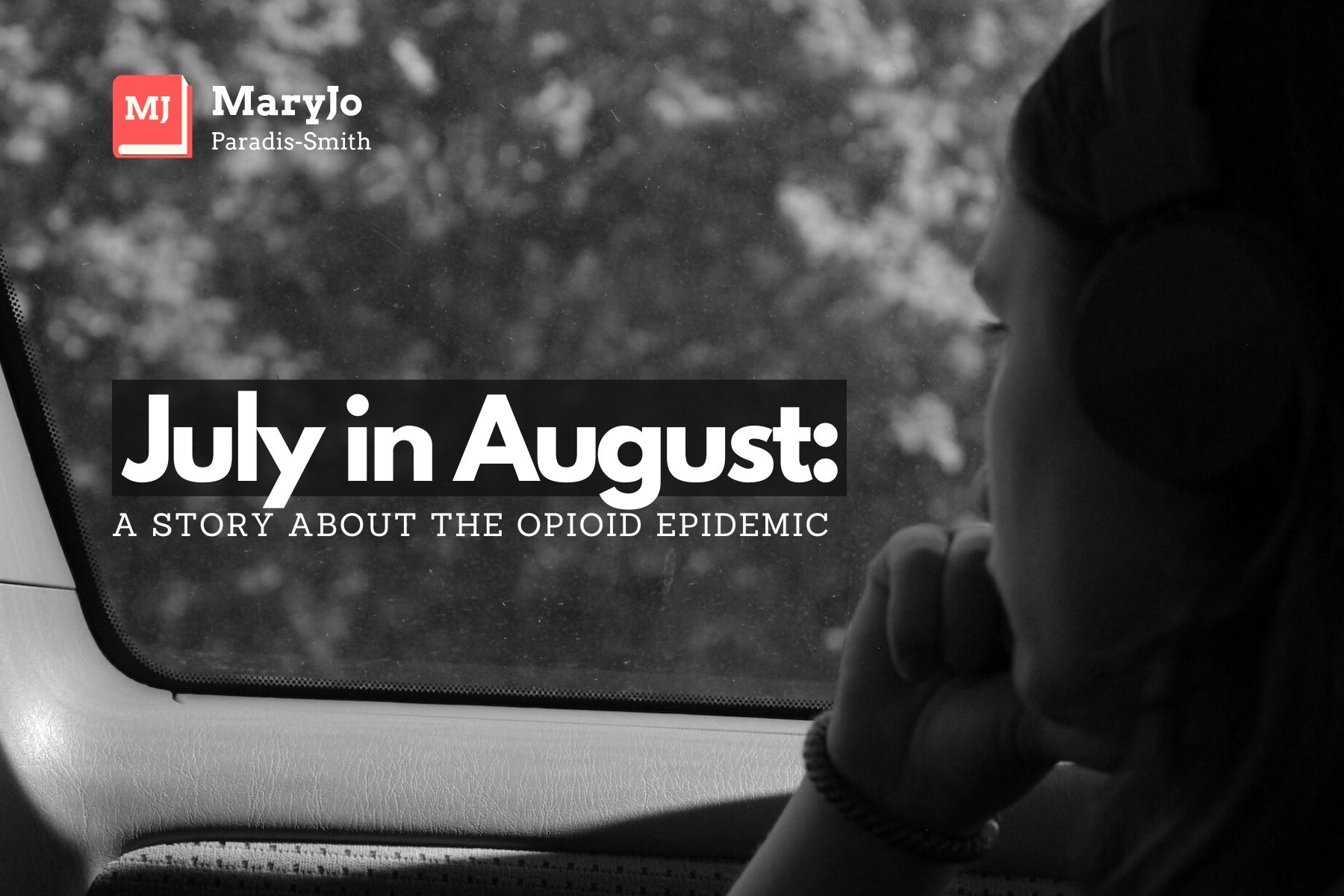 July In August by Maryjo Paradis-Smith is an emotional rollercoaster set in a quaint little town in New Hampshire, starring twelve-year-old July Krativitiz.
Maryjo Paradis-Smith presents July In August: One Girl's Struggle with an Opioid-Addicted Mother for an adolescent audience. This is the harrowing story of twelve-year-old July Krativitiz in Maplewood, a small town in New Hampshire, as she deals with living with a mother under the throes of a crippling addiction to opioids and trying to protect her adorable two-year-old sibling, Abe, in place of absent parents. This is more than just a story but an indictment of the ongoing opioid crisis that is destroying the lives of families everywhere in North America and beyond.
The Story of July In August
Living in Maplewood, New Hampshire, July Krativitiz is living a quite complicated life—complicated enough for twelve-year-olds but also for people much older than her: what with juggling time trying to take care of her little brother Abe and her drug addict mother who is too stoned to get anything done right. At times, she doesn't even get the liberty of choosing to go to school, opting instead to stay at home to be with her little brother and not just pray for his safety and wait for the school hours to end.
But one day, their elderly neighbor, Mrs. White, who's always offered her help to July, tries to take matters into her hands when she finds out what actually is wrong with July and Abe's mother and forcefully takes them away from home, essentially kidnapping them and taking them to a remote lake house where she claims the two children would be quite safe. And while Mrs. White's declarations seemed true for a few days, July quickly uncovers that there is more to the kindly visage Mrs. White wears in front of them all day.
It's when the first weekend comes after they are kidnapped that some hope flickers for them: Roger, Abe's father, comes to visit Abe for the weekend, only to discover that something has gone terribly, terribly wrong. July's mom has died, rotting on the floor, and July and Abe are missing.
Can Roger finish his journey and find both of them before something else horrifying happens?
What Readers Will Expect to Find in the Book
July In August by Maryjo Paradis-Smith is perfectly cobbled up and woven together to present a compelling and harrowing narrative about the dangers of opioid and the damning effects it has on the people around you, especially your family and especially so on your children.
You will feel the ambiance and the folksy atmosphere of living in New England, the quiet, the peace but also the silent dread that comes with the isolation and horror of being taken away from the life you've known, however terrible it may be.
Expertly told mainly from the point of view of July Krativitiz, July In August is sure to have you hooked from the first page to the last, as it masterfully weaves in emotion and experience into its wonderfully heart-aching narrative. This is truly a story for learning deeply and intimately about what it's like to live in a household where drugs have slowly consumed a family member's life.
Paradis-Smith has vividly written authentic characters who act their exact age accordingly to their circumstances and conditions, bringing the pages of the book to life and making it more impactful to its intended audience. July is someone who all readers will fall in love with and follow her life throughout. You will find yourself wanting to take her into your own arms and keep away the evils of the world.
While the book is primarily for middle-schoolers, adult readers can find meaning and benefit from reading it, also. Equal parts emotional and mystifying, and thrilling, July In August is a must-read for everyone, not only to help them empathize with victims of drug abuse but to help them learn more about the crises that contemporary society faces today.
About the Author of July In August
Born and raised in Arlington, Massachusetts, Maryjo Paradis-Smith is no stranger to the charming seasons and narrative possibilities of New England. Currently, she now lives in Barrington, New Hampshire, with her husband, Tom, and two cats.